Discovering new possibilities for nonwoven fabric based on our years of expertise
Felt is perhaps the best known type of nonwoven fabric, but UNIX also makes many other kinds of fabric without weaving. These fabrics are easy to process and can be given specific characteristics to suit many different applications. This makes them widely useful in products for daily life.
In the automotive sector, Unix is working to develop lightweight flooring materials and functional components for hybrid cars and EVs. We are also proposing cost-effective composite materials made by bonding different materials. We incorporate resin treatment, cutting, molding and other steps into an integrated process.
We continue to sharpen our tried-and-tested technical capabilities. Based on many years of know-how and experience, we are developing custom facilities and improving our manufacturing techniques. At Unix, we are determined to keep creating new possibilities for nonwoven fabric.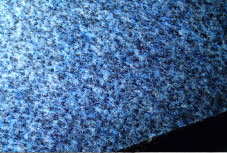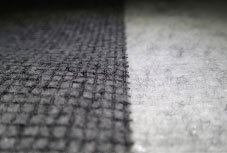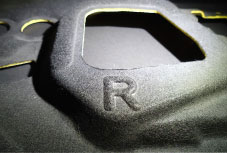 Unix's nonwoven fabric manufacturing technology
Manufacturing tailored to the application
Unix manufactures nonwoven fabric using the dry needle punch method. We provide products tailored to a variety of applications, from soft textured materials to high-density felts. Also, by mixing various types of raw material evenly, we produce a wide range of colors and patterns. Unix continues to focus effort on developing its manufacturing facilities and technologies, offering highly original product plans and proposals.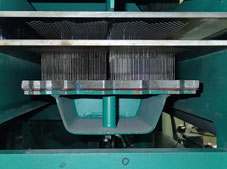 Non-woven fabrics can be manufactured for various applications using the needle punch manufacturing method.
Inline powder spraying
Unix uses its unique capabilities to manufacture high-density punch products. These include special two-layer non-woven fabrics. We have also set up hot melt resin processing machines inline. These enable us to offer non-woven functional materials produced using a combination of hot melt powder spraying and heat treatment.
Consistent post-processing
At its plant, Unix also carries out post-manufacture processing of non-woven fabric. For instance, we can combine it with other materials or mold it into certain shapes. We have integrated these treatment lines, which makes these products very cost competitive.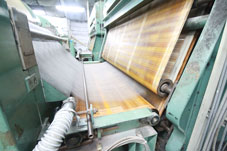 Through streamlined resin treatment and thermo-mechanical treatment at our plant, we can offer high-performance materials at reasonable cost.
The characteristics and applications of non-woven fabric
One of the major characteristics of non-woven fabric is that it can be given various functions according to the intended application. Unix is pursuing its possibilities through integrated post processing and combination with other materials. We have original technologies for bonding composite fabrics inline and conducting in-house resin processing. These advantages allow us not only to develop products to meet specific customer requirements, but also to propose new applications.
The characteristics of non-woven fabric deliver rich satisfaction
Workability and molded shape retention
Since non-woven fabric is highly flexible and formable, it is widely used as a material for automotive interiors that require different shapes for each model.
Unix's needle punch non-woven fabric can be produced in many colors and patterns, so it is ideal for floor carpets, ceilings, rear deck parts and many other automotive interior features.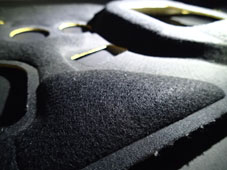 Functional auto parts
Muffling and sound absorption
With its felt-like material, non-woven fabric excels at muffling and absorbing sound, so it is used in many products for daily life.
Unix offers non-woven fabric for places where sound absorption is required such as the engine rooms of motor vehicles.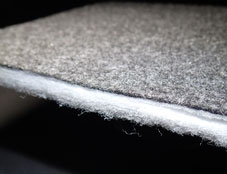 Thick non-woven fabric
Select the textile density required
Another feature of non-woven fabric is that the density of its fibers can be adjusted in accordance with the settings for the manufacturing process.
Focusing on filters as products that exploit this characteristic, Unix offers non-woven fabric air filters with special functions in a variety of markets.
Functional non-woven fabric
Value can be added to non-woven fabric by coating it with resin to achieve fire resistance, water repellency and so on.