In pursuit of products to serve the times
Automobiles have evolved in step with the changing times, resulting in the development of today's hybrid and all-electric vehicles. The non-woven fabrics used in these new vehicles are now required to be thin and light and provide the high-level sound absorption. For the sake of safety, they must also be highly fire resistant. Unix R&D is focused on creating products that capably meet these customer requirements.
Automotive components
Automotive non-woven fabrics are used inside the engine room and as ceilings and floors in the cabin. Fabrics used in the engine room must have a number of special properties. These include fire resistance, water repellency, acoustic absorption, and formability. In order to give a single sheet of non-woven fabric multiple functions, Unix uses an original high-quality method of resin coating processing. In addition to interior materials with good formability such as flooring, we also develop fire- and abrasion-resistant materials. These are used for carpet, rear deck parts, ceilings and door trim for many vehicle categories. Furthermore, we constantly seek to reduce costs by reducing our production cycle times.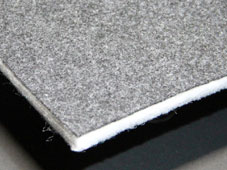 Sound absorption materials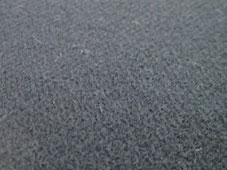 High-density punch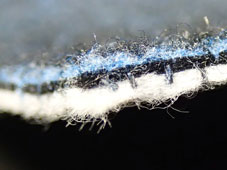 3-layer items